November 2 – Cubs win the World Series, and we celebrate with friends. Then we go home….and keep celebrating.
December 1 – We take a pregnancy test, see positive, panic and read the instructions to confirm a positive, then quietly crawl into bed and watch Star Wars on the iPad and fall asleep, not saying much, but just processing with a smiling glance or two at each other.
December 12 – My OB squeezes us in for an appointment and confirms that we are, in fact, expecting. Due August 2, and already 6 weeks along, confirming it was a not only a World Series baby but our very first "try" (if you can call it that). We even walked away with a sonogram of our tiny mustard seed (below). And then we packed to leave for the Midwest just two days later for the holidays.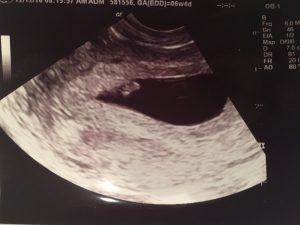 December 20 – We tell our families, all in town for the holidays, over my birthday dinner at Harry and Izzy's with Luke toasting to "my wife, her 31st birthday..,yada yada…and to the health of the baby!" Screams erupt and we spend the rest of the evening celebrating.
And since then I've embarked on one of the most memorable and incredible journeys my body, and our life, has taken. And it's only the beginning…
Now being two(ish) weeks out, I wanted to put a post together for my records and remembrance starting with a summary of life in each trimester, followed by an assortment of tips, advice, and my experience of "traditional" pregnancy happenings.
First trimester (0 – 12 weeks) – I need to start this section out by stating I was one of those. I didn't get sick once, my life stayed nearly the same (even regarding sleep and hormones), and I almost had to remind myself I was pregnant before ordering a glass of wine with dinner. I continued to work out but do remember feeling queasy at a barre class at 10 weeks. Does that count?
Second trimester (13-27 weeks) – This is a fun phase, as they say. Mainly because it's when I started actually showing and feeling pregnant, but still wore most of my pants and clothes. I started pinning nursery ideas and started registries but there really wasn't much else baby or prep I could be doing — other than keeping him and myself healthy!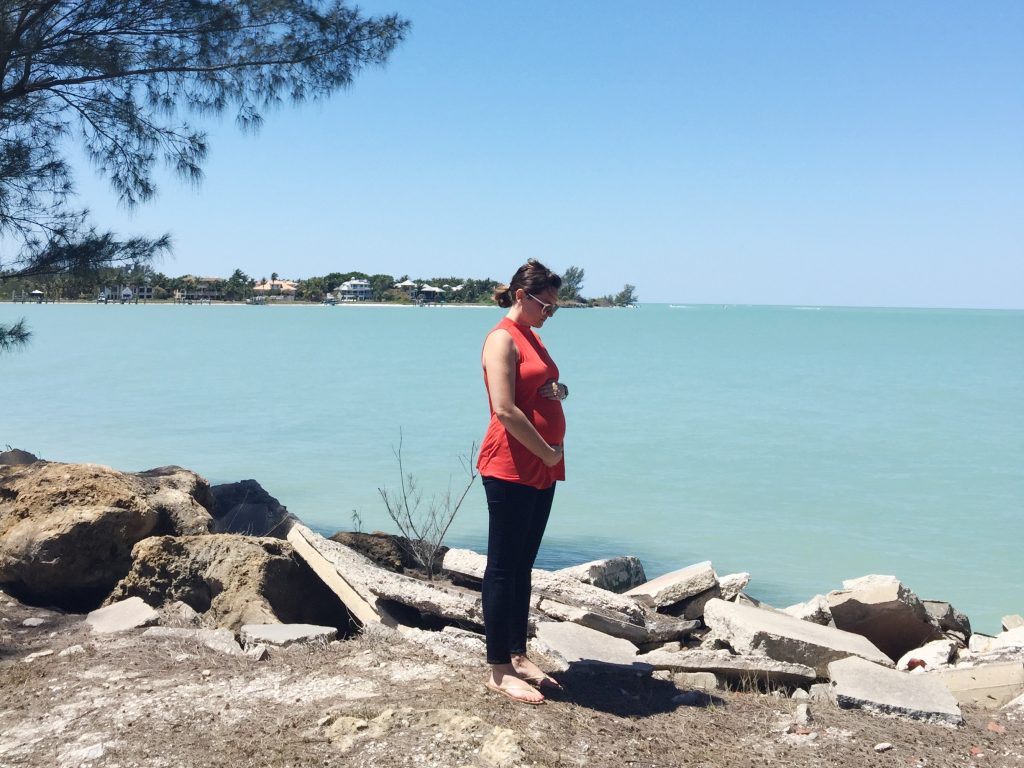 14 weeks, we headed up to Chicago for two of our best friends' wedding.
17 weeks, we went to Sedona on a family trip.
19 weeks, I flew to Florida for an engagement session, beach trip, and sweet time with my in-laws.
20 weeks, I felt him kick for the first time laying in bed. I'm going to miss that feeling so much! I also shot Matt and Laura's wedding and realized "Oh man, that was tough and tiring, and I have 6 more to complete before he's here" and reached out to my incredible network of mommy photographers asking for tips.
21 weeks, we found out we were having a boy, and our hearts simply continued to soften (we secretly wanted a boy). And we finally announced our pregnancy on Facebook.
23 weeks, I shot the wedding of a lifetime. A three-day wedding in Boca Grande, FL with my incredible sister-in-law leading the event….then just two days upon returning, I had my first experience with swollen legs from shooting for so long and travel. No fun!
25 weeks, I shot Amberly and Derek's wedding stunning wedding at Laguna Gloria.
Third trimester (28-40 weeks) – I hit my third trimester while in Greece (below in Hydra), what a dream. With my mamma by my side who was able to feel him kick a few times. The third trimester hasn't brought too much more other than Texas heat and just getting bigger and bigger. What a special time of "count down" and getting as many date nights in as we can.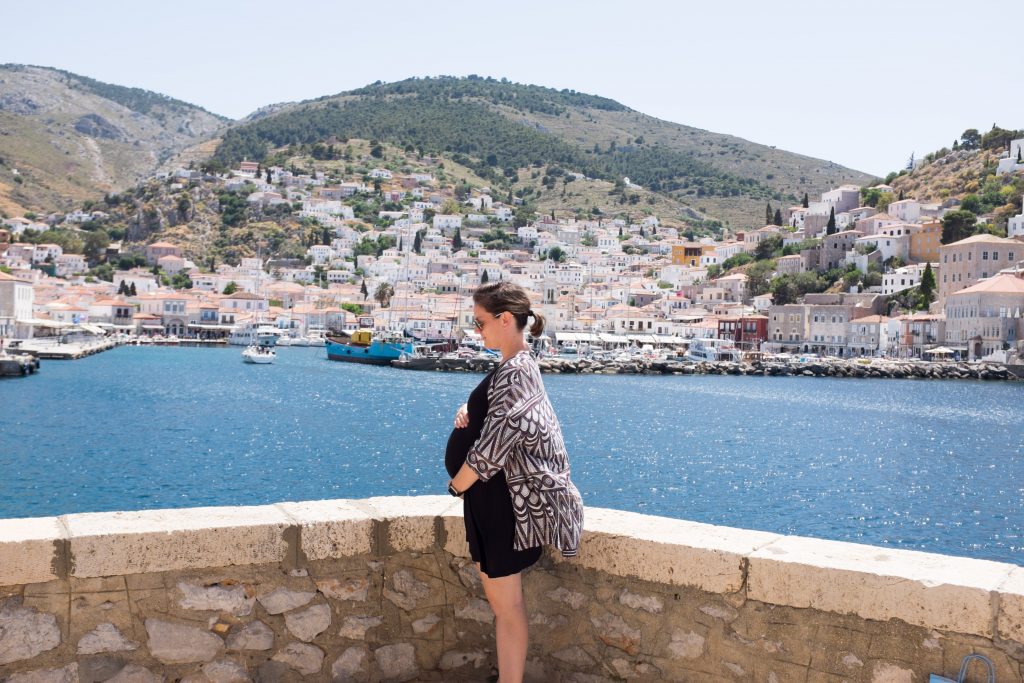 27-28 weeks, I spend 8 days in Greece on a bucket list trip with my mom, see part 1 and part 2 of the trip on the blog.
29 weeks, just three days after returning from Greece, I drive up to Dallas for Alex and Jordan's tuscan wedding, then drive back to Austin for Brad and Adrienne's Camp Lucy wedding. A double header! Really couldn't have done it without my two assistants.
30 weeks, me and baby boy embark on our last flight pre-labor. We visit our families in the Midwest for our baby showers. I walked away full of amazement and a little emotionally overwhelmed knowing how much love he already has in his life, and will continue having. This world is a mess, but his little world is full of love and support.
33 weeks, I shoot my final wedding before our baby boy arrives. It's hot, but we're all hot together so that helps in solidarity. John and Sarah couldn't have been a greater couple, or had a greater wedding, to capture. And they were cool with me wearing birkenstocks! Much love.
36 weeks, we have our final ultrasound. He is healthy, has an average sized head (yes!), and progressing nicely towards an on-time delivery.
36 – ?, it's triple digits here in Austin. I've been living at the Dripping Springs pool, Juiceland, inside, or at movies that have reclining seats only. At 38 weeks, I'm uncomfortable and getting more ready by each blazing hot day that passes. I feel myself getting slower, exhausted, wanting naps (never needed them before now), and sore if I sit or stand for too long.
I love you so much already little man, be kind to your mamma! I can't wait to see if you have your daddy's dimples…
Now for the tips, observations, and/or personal experience with "typical" pregnancy happenings or stereotypes. Reminder: this is my personal experience. I had a few people comment that pregnancy really did agree with me so take all of this with a grain of salt knowing that, every single pregnancy is different.
Body, hormonal, emotional, sleep changes:
Let me start this by saying I've never loved my body more. To be sitting on a couch, eating a bag of chips, knowing your body and the grace of Jesus is growing a human. It is mind-bending to think about, I never want to take my body for granted or hate on it again knowing what it's done for our son with very little change of lifestyle or effort from me. Ladies, love your bodies, trust it, treat it well. God is so good and it's only strengthened my awe of Him, His grace, and equipping women to do this.
I felt my bump pop around 17 weeks, my sleep patterns have 90% remained the same (even at 38 weeks), but more recently I've experienced a few bouts of braxton hicks and pain in my right elbow similar to sciatic nerve pain a lot of women feel. Bizarre huh??
I haven't felt too many hormonal changes along the way but definitely emotional roller coasters throughout the entire process of "What have we done…", "I can't wait to be a family of three….", "I'm going to miss our traveling, spontaneous life…", and "I'm excited to feel that explosion of love I hear about…". All over the map y'all!
Food:
I started the pregnancy process worrying about what I ate, tried to eat extra healthy (though we ate pretty healthy already), loading our weekly meals with salmon and lentils and finally realized "Dang, my body has this covered. I'm going to enjoy this time" and found myself indulging in sweets more than I ever have. We've continued to eat about the same, I just may have just gone for seconds and ordered dessert more often.
No insane food or smell aversions throughout this time, and had just one craving: ice cold skim milk and Nesquik chocolate powder. Yep, that's it. I took one sip, downed the whole glass, and haven't touched it since.
Activities:
I'm an active (some say over active) person by nature, it's in my DNA, I never slow down. And, as laid out above by trimester, my life didn't change much. It's true what "they" say, continue doing most of what you did before you became pregnant, especially in the first and second trimester, and always listen to your body on what it can or can't do. I've never been a big runner but knew a girl who run up till 36 weeks. Mad props there.
I continued working full time, shooting weddings, traveling, etc as much as I could with my Doctor's permission and advice. However, I remember about 20 weeks switching to barre and yoga workouts from my more regular spin and circuit workouts, ready to get back to those!
Currently I'm trying to start each morning with good stretches, especially for my hips and inner thighs.
Maternity clothes:
I didn't love shopping or even owning maternity clothes. I didn't want to invest much and avoid if at all possible. Like most things, I reached out to my mommy friends on where they shopped and then found myself at Old Navy, Loft, H&M and ASOS. I mainly just purchased pants/jeans (no way around that), a few staples, a few fun items, and some flowy non-pregnant items.
My advice: don't wait to get yourself some maternity jeans/pants like I did. They're game changers in comfort and there's no reason to fight it.. And y'all, I have LIVED in these. Literally wearing them right now at 38 weeks. Worth every penny.
Other:
Journal, journal, journal. I had this from the beginning, had this on our registry, and received this from our dear and talented friend Kristen of homeseed paper. I'm not great at journaling but how incredible to be able to look back on this time, especially when my brain turns to mush.
Registries were surprisingly annoying to make, not fun like a wedding registry. Maybe annoying is too strong of a word, but they took some serious time to create. Because here's the thing, what the heck do I know what he'll need. My friends were incredible in telling me what they could/couldn't live without, good/better/best brands, what to spend on and what to save on, etc. From there, it came down to aesthetic. Or poor guy is going to have to learn about color in a book or something because his mamma loves neutrals. Building the registries took more time/research/swapping than I anticipated but I'm so ever grateful for the items we've been given that people blessed us with. I ended up at Babylist and BuyBuyBaby.
Apps and books. Early pregnancy I skimmed Active Birth and found it really enlightening and helpful on your options for birth, and the history of giving birth. Now I'm reading Baby Wise and The Sleep Lady's book on routines and sleep. For apps, I loved BabyCenter and would really only recommended that one, personally. I also loved getting Lucie's List emails, they're just honest and funny and catered to where you are in your 9 months.
Get those "things" done you've been putting off or may need to do in those first few months. For us, it was getting the cars checked and oil changed, dentist appt/filling, dermatology appt, vet appt, treating our leather couch, and even polishing our stainless pots/pans.
Find a doctor or midwife you love and trust, and then really trust them.
Ask for advice, everywhere. But take each piece, article, conversation, or blog post as that person's personal experience. Go to different people for different topics, search for honesty not fluff.
There you have it, let me wrap up this longest post ever immediately before I continue to ramble. As always, please don't hesitate to reach out with questions or advice. Especially if you are experiencing pregnancy and want some of of that honest advice I sought. I'm here for you and want to share in this journey with you as so many of my friends, mom, and mother and sisters-in-law did for me. Now just two weeks out, my goal is to then put a part 2 post together of our labor story — but let's just survive this heat and heavy belly first. xoxo