Santorini. I've heard from so many it's unlike anywhere else in this world. I had high hopes for this place, and they were somehow exceeded. With every turn, view, hike, meal, and sunset. I truly can't put into words the feeling felt walking to our back patio and that first view of the white villa covered mountainside. Like a dream, and from our patio.
We stayed at Remezzo Villas which came highly recommended on Trip Advisor (thanks to my mamma again for all the research!) and every word of those reviews was right. It was affordable, beautiful, comfortable, relaxing, and we felt so well taken care of. It was effortless to be there. The kindest staff, taking care of everything for us even before we arrived. Getting to know us by name and the five-course breakfast each morning with again…..that view. Now for the details!
Day 4-8: Santorini
Upon our arrival from Athens, we were picked up by a staff member from Remezzo. We then got settled, talked to Christina (manager) about our tentative itinerary and her recommendations, took a billion pictures immediately from our balcony, and walked to dinner at Mezzo (get the Ladotyri cheesein!) and walked back to our villa with the below sunset as our company.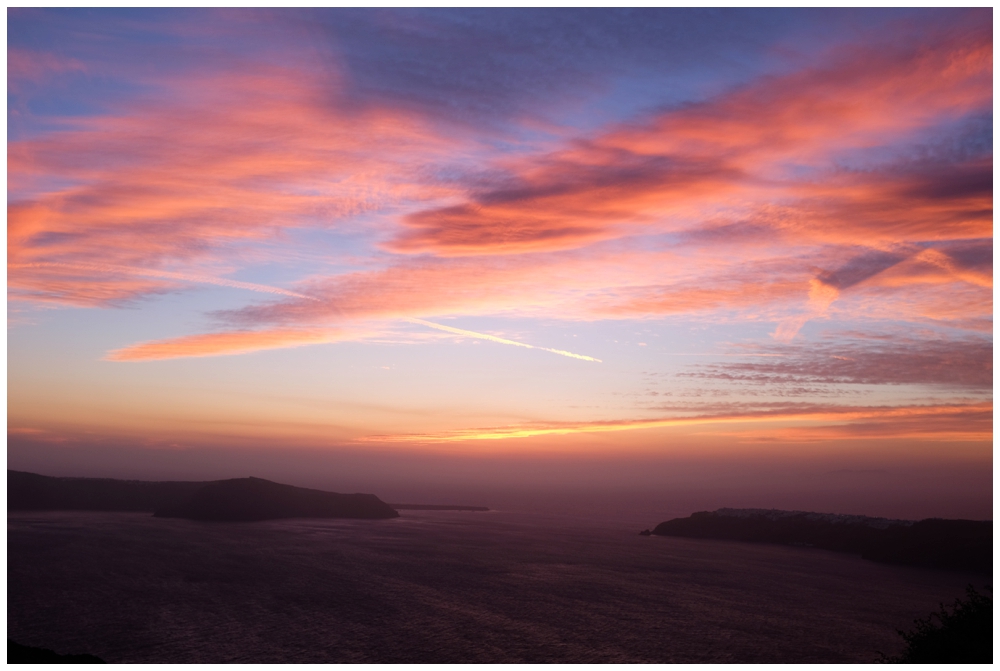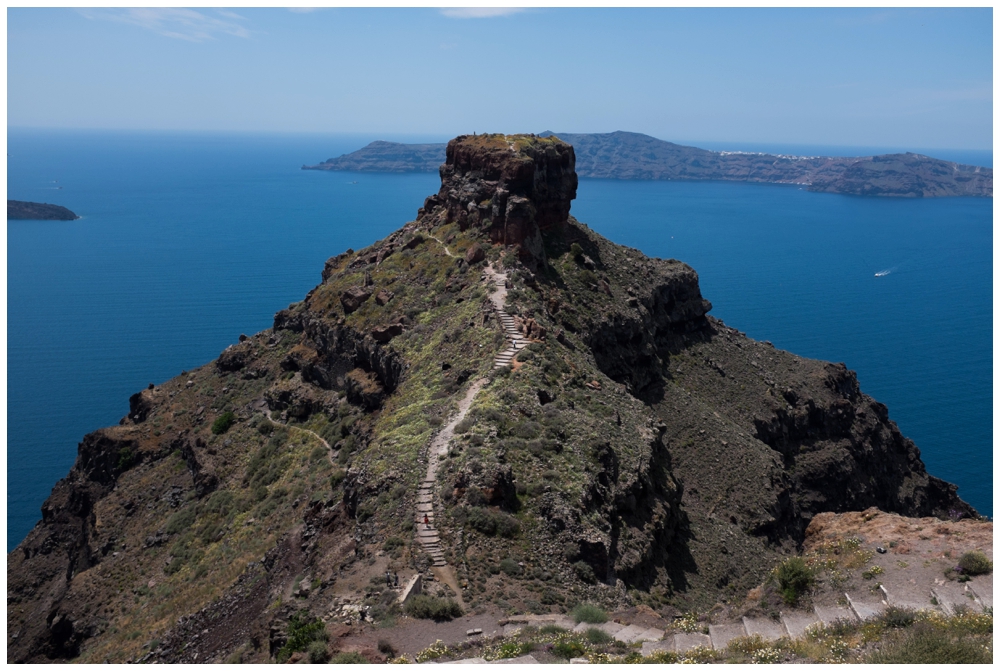 On our second day, we took our time getting up. Enjoyed that five course breakfast I mentioned, and then did a nice and simple hike up Scarros, pictured above. If you look closely, you can see people at the very top but we opted out of that endeavor. After that we laid by the pool with a book for awhile, got dressed and walked to yet again another incredible restaurant, Aegeon Restaurant (get the cheesecake!).
Hey third trimester!
Day 6 was our huge, long, must-do hike to Oia. The city at the very northernmost tip of Santorini, about 6+ miles from out villa. Whew! It was tough but so worth it. Once we arrived into the town we got gelato, a few gifts for friends and family back home, explored the town a bit, then walked down to the port. This was easily the hardest part of the hike (probably because I was so over it by then) but we ate our well-deserved lunch of fresh sun-dried octopus, a greek salad, pita and tzatziki at Ammoudi Fish Tavern.
Day 7 was our 5-hour sunset sail with Santorini Sailing. While the sunset itself wasn't as perfect as our first night there (then again how could that be topped), it was such a great experience touring the entire island by boat, learning all about it's history, seeing the red and black beach, and swimming the hot springs (not me!). And the food, the meal on that boat was nearly the most memorable part — but then again food always seems to be.
And finally, day 8. I am so proud of my mom for this day, the adventure we had renting a car and driving her driving the whole island on such tight roads — and stick shift. If I weren't pregnant we both agreed we would have done a 4-wheeler, which I'd recommend, but instead we turn our data on, threw on Google Maps, and explored the little 10 x 3 mile island. We ended the evening at Christina's favorite restaurant on the island, Metaxi Mas. After that, we kept our rental to get us to the airport, packed, FaceTime'd with our husbands, and went to bed early.
It was a long, but very nice flight home from Athens > Munich > Chicago via Lufthansa, an overnight in Chicago for some quick hangs and brunch with friends, then Chicago > Austin to my people.
View part 1, Athens and Hydra here, and as usual never ever hesitate to reach out with questions or more tips! I truly can't imagine a better "babymoon" and mommy/daughter trip. We built memories and had experiences that will never be replaced or even matched, and I can't imagine a better country or travel partner to have done so.