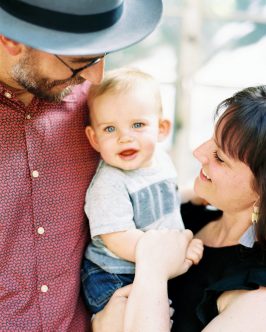 When I began documenting weddings in 2009, I never would've thought I'd fall so in love with it. But I did. There's just something about it—something about seeing each unique, raw moment unfold—something about being in whatever strange position I need to be in to capture it—something about stringing your images together into a record of the day you will never forget. So now I live for it. All those things you imagine for that day, all the things you've always imagined—the rush of slipping into your dress, the laughter at a suddenly uncooperative flower girl, the joy of a first look, the tears of a father, the pain in your feet after dancing the night away—translating these from moment to image is what I love.
I love Jesus, marriage, our little man William, my college girls, our families, patio hangs, a good manicure, London, slow mornings, and well-crafted coffee, cocktails, and food.
Oh, and that tall drink of water beside me is my husband Luke. He may join me a time or two on shoots, or you may just hear me gush about how wonderful marriage is and that, I swear, it's worth every stressful detail your wedding may bring.
Family photo by Pine & Blossom Photography