Real talk. This fall has been one for the books…
But I wouldn't want it any other way. I wouldn't miss one my couple's weddings for the world. It has been a slow and steady transition since our move to Austin two months ago, with me being back in Chicago a total of 6 of the 9 weeks we've lived here. Yowza.
With all the craziness, we're also about a month late on celebrating our two-year anniversary and, real talk again, that was tough for me to wait. I'm a celebrator of all things: a new site launch (!!), Luke getting into school, new jobs, birthdays, the Oscars….you name it. But, that life and that's our marriage and that's this crazy season we're in. And I love doing it together. So, to celebrate we had dinner at The Peached Tortilla (huge recommendation!), enjoyed craft cocktails along Rainey Street, and had one of the best experiences we've ever had Saturday night…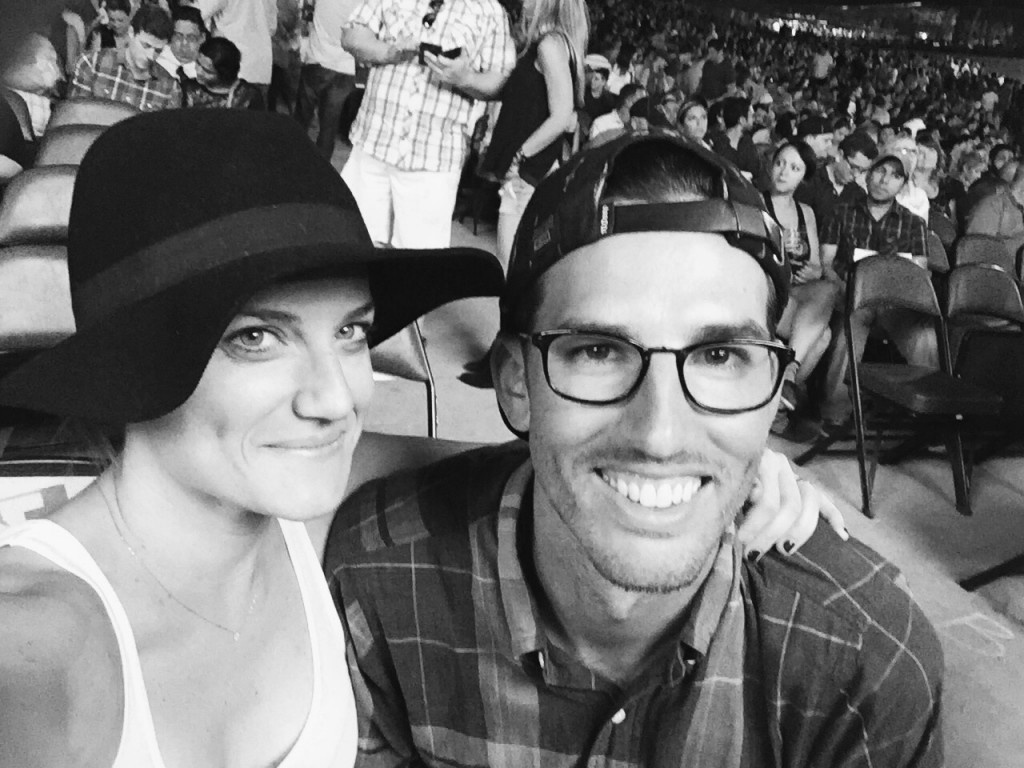 What started off as lawn seats for the Oddball Festival with Aziz Ansari and Amy Schumer turned into Luke and I brought onstage as a randomly selected couple (with bad seats), roasted by the host in front of 14,000 people, and given front row seats (see photo above) and $200 towards Fandango. It was a night to remember, and I'm just starting to feel my cheeks again from laughing so hard. Definitely an anniversary we'll always remember!
So, how's Austin? How are we loving this new city? How is school going for Luke? How am I holding up?
Austin rocks. It's everything you hear about it. I already feel so in love with this city, and so hopeful in this transition that it's right where we should be.
Luke is loving school at Texas State. And is absolutely killing it. He works at the writing center one day a week, has classes three days a week, and is working with Texas State women's tennis team. Like I said, killing it.
We've had some visitors (thanks Nick, Joel and Laura!), explored some of the best cocktail bars (favorite), coffee shops (favorite), and food trucks Austin (favorite) has to offer, swam in the famous Barton Springs Pool and hiked the Greenbelt.
We found a church we love, I've been able to slowly connect with the photography/creative world down here, and Luke's made some friends in his program. Bring on the community! We're ready.
I started working full-time as a project manager two weeks ago at a marketing agency downtown. It's small, but such a tight-knit group which is so fun.
We're bing-watching Friday Night Lights. 'Cuz Austin.
Now it hasn't been all the joy you're reading above. This has been one of the toughest seasons I've ever been through. It was a tough move away from the city we called home for 6 years, that gorgeous skyline, my dear clients and photography network, our families a quick drive away, our friends, Sunday Funday, a real fall (it's still in the 90s here), and the comfort of the familiar. Those entire few weeks of moving, the move itself, the unpacking, the flight two days after arriving, the 5 flights afterwards, the job searching, the unfamiliar. All tough.
I'm about to fly back to Chicago tomorrow for my last wedding of the season. As sad as it is, as much as I'll miss that friggin' city, I know it's going to be best to actually BE here, and looking forward to truly getting settled. Bringing it all back around, we're loving this city and so very hopeful and excited for what's in store in this new season of life. And this new city we call home.
xo